Puig, Grandal power Dodgers past Mets 8-2 and into 1st place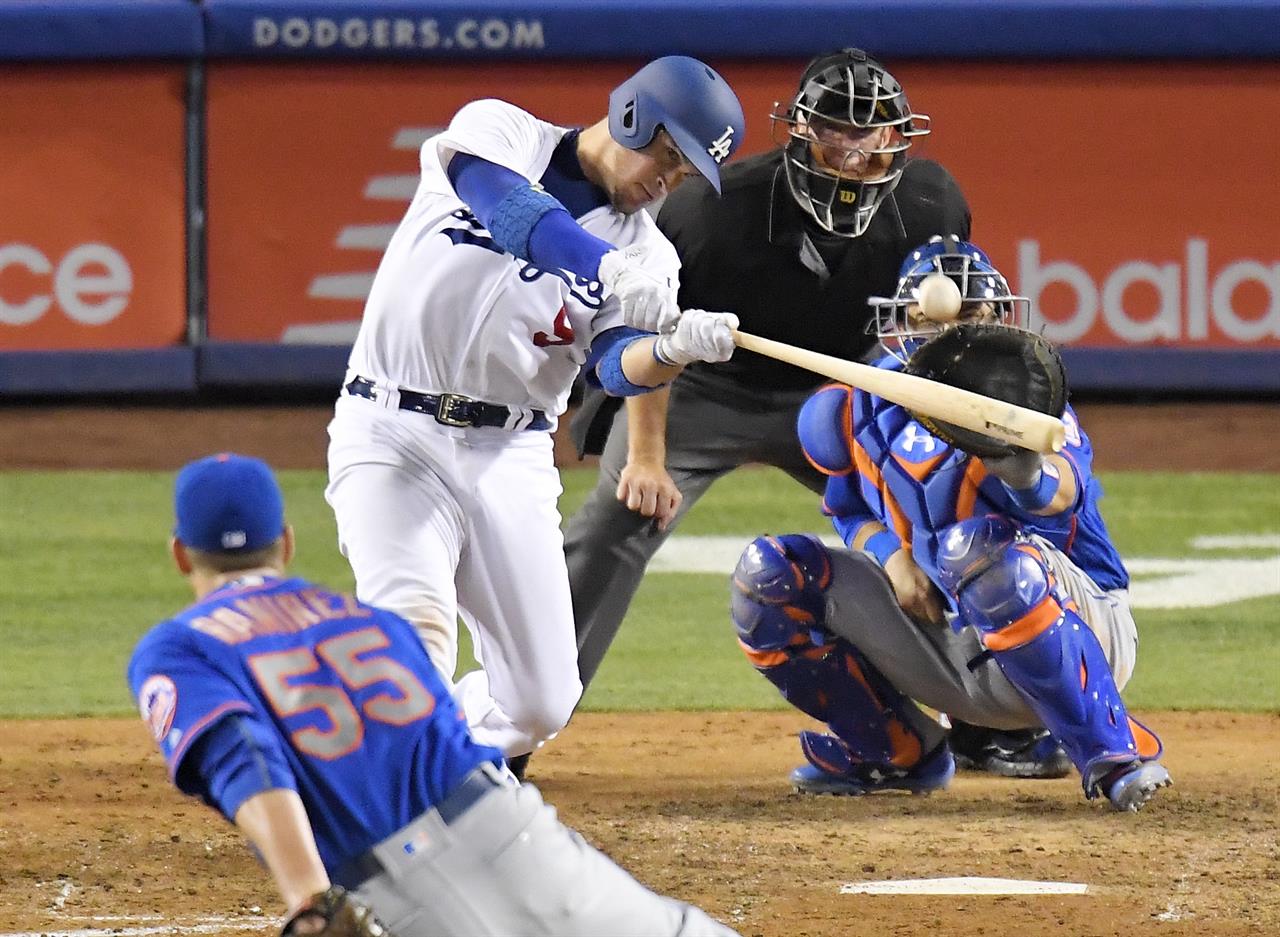 Thursday, June 22, 2017 3:36 AM EST
By STEVE DILBECK, AP
LOS ANGELES (AP) — Another day, another power outburst by the Los Angeles Dodgers. And the struggling New York Mets were in no mood for Yasiel Puig's antics.
Puig riled the frustrated Mets with a long look at his three-run homer, Yasmani Grandal added two solo shots and the streaking Dodgers took over first place in the NL West by battering New York pitching again for an 8-2 victory Wednesday night.
Rich Hill turned in his best five innings of the season for the Dodgers, who have won six straight and 12 of 13. They jumped a half-game ahead of Colorado, which had its six-game winning streak snapped with a 16-5 loss to Arizona.
Puig posed at home plate and admired his fourth-inning drive off rookie Tyler Pill, irritating Mets first baseman Wilmer Flores, who said something to Puig as the Cuban slugger rounded the bag.
Puig looked back at Flores as he was trotting toward second and cursed at him, Flores said.
"I just told him to run the bases, that was it," Flores said. "I don't think he knows what having respect for the game is. We're playing horrible right now, we don't need his (behavior)."
Puig claimed he did not remember the exchange.
"He disrespected us," Flores said. "I think there's a way to enjoy a home run. That was too much."
Between innings, Mets veteran Jose Reyes and outfielder Yoenis Cespedes, also from Cuba, spoke with Puig on the field.
"After I talked to Cespedes, he told me, 'Try to run a little bit faster,' and tried to give me some advice," Puig said through a translator. "I don't look at it that way, but it is what it is."
It's far from the first time Puig has annoyed an opponent, but there was no obvious attempt at retaliation from the Mets.
"We've got bigger problems than somebody's home run trot right now," manager Terry Collins said.
Outscored 30-8 in the first three games of this four-game series, the banged-up Mets (31-40) have dropped six of seven overall and are nine games under .500 for the first time since Sept. 2, 2014.
They've given up 12 homers in the series, and the Dodgers have gone deep in 13 consecutive games.
"Historically, it's a moment in time you have to appreciate," Hill said.
Hill (4-3) gave up a leadoff home run to Curtis Granderson, then held the Mets scoreless for the rest of his five innings. He struck out a season-high eight and allowed four hits, but became the first pitcher in major league history to last five or fewer innings in each of his first nine starts in a season.
The Dodgers tied the score on Hill's sacrifice fly in the third, his first RBI since June 19, 2009.
They took the lead in the fourth after rookie Cody Bellinger doubled and advanced to third on right fielder Jay Bruce's throwing error. Logan Forsythe's double drove in the go-ahead run. After an intentional walk to Joc Pederson, Puig launched his 13th home run.
Grandal added his first solo shot in the sixth and second in the eighth. He has three homers in his last two games and nine on the season.
Pill went six innings, yielding six runs and five hits.
TRAINER'S ROOM
Mets: RHP Zack Wheeler was placed on the 10-day disabled list with biceps tendinitis. The Mets are hoping Wheeler (3-5, 5.29 ERA) will only miss one start. Collins said it was undetermined who would take Wheeler's next turn.
Dodgers: Manager Dave Roberts said OF Andre Ethier, out all season with a herniated lumbar disk, is not expected back until rosters expand Sept. 1. ... LHP Julio Urias (shoulder) remains on the Triple-A disabled list. Roberts said Urias was seen by team doctor Neal ElAttrache this week and the club was still gathering information. ... Roberts said 1B Adrian Gonzalez's herniated disk pain has subsided since his epidural but Gonzalez still does not have full range of motion.
UP NEXT
Mets: LHP Steven Matz (1-1) makes his third start of the season in the series finale Thursday night. Matz went seven innings in his two previous starts after missing more than two months with a sore elbow. He has a 1.50 ERA in three career starts at Dodger Stadium.
Dodgers: LHP Hyun-Jin Ryu (3-6) is another Los Angeles starter trying to add some length to his outings. Ryu has pitched past the sixth inning just once in his last 11 starts. He did throw a season-high 105 pitches in his most recent start.
___
More AP baseball: https://apnews.com/tag/MLBbaseball
AP