AP Explains: Status of high stakes Spain-Catalonia standoff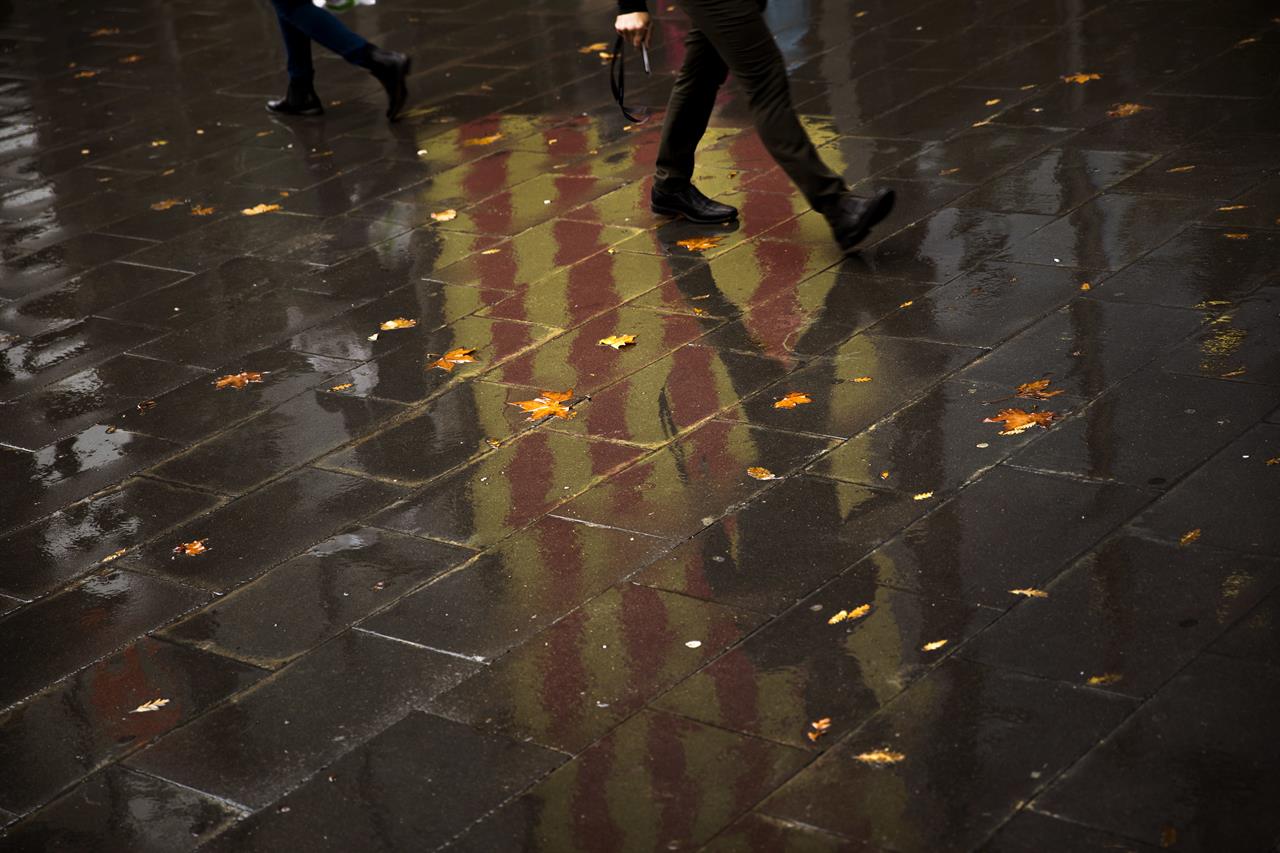 Thursday, October 19, 2017 1:02 PM EST
By CIARAN GILES, AP
MADRID (AP) — Spain is enduring its most acute political crisis since the return of democracy in the late 1970s, with Catalonia, its most prosperous region, positioning itself to declare its independence. Spain is moving to curtail Catalonia's self-governing powers should the region's leaders finally make that independence call. No compromise is in sight. Here is the status of the standoff and a look at what may happen over the coming days.
___
NO CLARIFICATION CAME
Catalan regional leader Carles Puigdemont faced two central government deadlines this week — on Monday, to make clear whether he has already declared independence for the region, and on Thursday to fall in line with Spanish law. Both times, Puigdemont was ambiguous in his response.
On Thursday, Puigdemont sent a letter minutes before the Madrid-imposed deadline expired but once again he did not answer Spain's question. Instead, he warned that his parliament could declare independence unless Spain agreed to talks. Spain immediately rejected this — it has consistently said discussions are not possible so long as independence is on the table. The Spanish cabinet will meet in a special session on Saturday to activate unprecedented measures to take control of the Catalan region's semi-autonomous powers.
___
ARTICLE 155
Spanish Prime Minister Mariano Rajoy has vowed that Spain will not be divided and says he will use all lawful measures to stop the separatists. For the moment, he plans to use Article 155 of the Spanish Constitution, which allows the central government to take partial, or full control, of the governance of a region if it does not comply with its legal obligations.
The article, which has never been triggered, doesn't specify exactly what areas of public administration the Spanish government will take over, but officials say Madrid will almost certainly take control of Catalonia's regional police to ensure law and order is maintained, and tighten its grip on the region's finances. Other measures being mulled are removing Puigdemont's presidential powers, rescinding regional control over education and schools, calling fresh elections, and taking control of public regional media that are seen as nothing more than a mouthpiece for the current pro-independence coalition.
Rajoy wants maximum consensus with the main opposition parties and so far he has two of three backing him. To make sure that he doesn't lose their backing, Rajoy is not expected to go further than taking control of the police and finances.
____
THE TIMETABLE
There is no precise timetable but Article 155 could be implemented in 10 days. Saturday's Cabinet meeting should announce the measures and the government must then get them approved in the Senate, where Rajoy's conservative Popular Party has an absolute majority. Officials say the Senate could pass it Oct. 27.
The Catalan president, meanwhile, may see the Cabinet meeting as confirmation that no talks are in the offing. He may then convoke the regional parliament, where his pro-independence camp has a slim majority, and push for a vote to formally secede. This, at first glance, would represent a political earthquake for both Spain and the European Union. In reality though, it might be more symbolic than anything as Puigdemont, without control over defense, borders or foreign affairs, can do little to put it into practice.
No foreign government or international body has expressed any appetite for a new Catalan republic. The European Union has already said Catalonia would be expelled from the bloc and its shared currency, the euro, and would have to re-apply to get back in — a lengthy and uncertain process.
___
STREET REACTION
Massive peaceful demonstrations for and against independence have been commonplace in recent weeks. Pro-independence marches are set to intensify in the coming days.
Catalonia's 7.5 million inhabitants are evenly divided over independence but most are likely to consider Article 155 an "invasion" of the region's self-government despite Spain's insistence that it would be nothing more than an undesired necessity to restore legality. The next major protest is on Saturday evening. It was initially called to demand the release of two leaders of the Catalan grassroots organizations jailed this week by Spain's National Court in Madrid in a sedition investigation. The two groups have been the driving forces of the independence movement and the arrests have enraged supporters. The groups, ANC and Omnium, are rolling out new actions later this week that could include a widespread call to boycott Spanish companies.
___
HOW DID WE GET HERE?
Many Catalans have long highlighted the region's distinctness but the independence surge began in 2010, when Spain's top court struck down key parts of a charter that granted Catalonia greater autonomy and recognized it as a nation within Spain. After that, calls for an independence referendum grew louder and louder.
Puigdemont's government ignored a ban and staged the referendum Oct. 1. His government said over 40 percent of the 5.5 million eligible voters cast ballots and most favored independence. But opponents protested it was illegal and lacked basic guarantees such as an independent electoral board. Many pro-Spain voters are also thought to have stayed at home in protest at the referendum and in accordance with the court's ruling.
Spain's financial crisis over the past decade or so and the harsh austerity measures that followed have also generated support for secession. One of Catalonia's chief complaints is that it contributes more in taxes to the Spanish treasury than it gets back.
___
THE VOICE OF BUSINESS
More than 900 companies, including Catalan banks, multinationals and mid-size businesses, have moved their registered addresses out of the troubled region because of concerns over the region's legal status, according to Spain's Association of Commercial Registers. While it doesn't affect jobs, the firms could delay investments if the standoff continues. It also sends a no-confidence message to the Catalan government.
AP