Jeff Allen's New Book At Best Price Available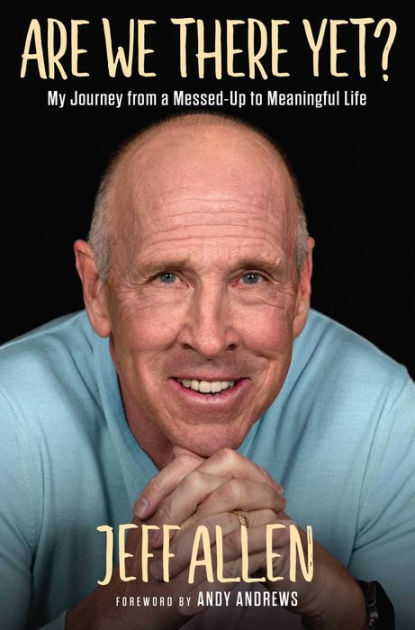 This Fall Jeff Allen is on the "Are We There Yet?" Tour in over 40 cities across the country to promote his new book with the same title.
As a member in our Loyalty Program and in partnership with Salem Books, we're providing the opportunity for you to purchase Jeff's new book at the lowest price available anywhere.
When using the code and the link below, Are We There Yet can be ordered for $17.50 -- including shipping! (Tax is not included.) This is a savings of 30%
This price is available only when using the code and the link below:
CODE: AWTY23 (enter when checking out)
LINK: https://bakerbookhouse.com/products/518575
Here's more about the book...and Jeff:
Comedic and Inspirational memoir from the stand-up comic who coined the phrase "Happy Wife, Happy Life".

In his signature style of stand-up comedy bits, Jeff Allen shares the inspirational and at times laugh-out-loud story of how God rescued him from alcoholism and despair through the book of Ecclesiastes. At times, his story is tragic and even tear-jerking—but in the end, it demonstrates that God takes a customized approach to reaching each of His children. Known as "the King of Clean Comedy," Allen's memoir won't disappoint.
Jeff Allen is in his fifth decade as a working comedian. You may have seen him on America's Got Talent, Dry Bar Comedy, HBO, Amazon Prime, Huckabee, Pureflix, Comedy Central, VH-1, Showtime, TBN, CBN, Family Net or numerous other television networks and podcasts. He can be heard regularly on SiriusXM's comedy channels, as well as Pandora and Spotify. He has performed for our troops on aircraft carriers and ships in the Indian Ocean. Jeff's videos have surpassed 300 million views on Facebook, YouTube, and other channels. Jeff has also produced and starred in his own sitcom pilot for Castlerock Television and in the critically acclaimed films, Apostles of Comedy. On his current tour, Jeff Allen 2.0, Jeff's sidesplitting comedy drives home the humor in everyday family life, the ups and downs of marriage, the challenge of raising children, the bliss of the empty nest (followed by the unexpected returns to said nest) and the joys of being a grandparent.